Oil Price
All About Oil Price

Oil Price
Crude oil is a volatile commodity and so is its daily price. No model can accurately predict their exact values at a given time of the day, as they are determined by plenty of factors - some of which are not even quantifiable.
The following gauges, in this context, approximately reflect the daily crude oil market price in US$ on the basis of prevailing market moods; it is, by no means perfect, but mildy shows the market situaion with regard to the two benchmarks, the WTI and Brent.
The EIA, the US Energy Information Administration, has identified seven major factors that determine the global oil prices. In addition, there are a few minor, yet relatively significant, factors at play.
The following charts show how the crude oil price changes daily, weekly and monthly. In addition, you can find the historical changes as well.
Change Weekly Data:👉
Data Source: EIA
Oil Price - factors to lookout for...
The EIA - the US Energy Information Administration - has identified 7 key factors that collectively play the major role in determining the price of oil. They are as follows:
Supply by the OPEC members
Supply by non-OPEC members
Demand by OECD countries
Demand by non-OECD countries
Stocks / Inventory Counts
Spot prices
Financial markets
Since geo-political events affect all the above factors, it's not listed as a factor on its own.
In this context, the following charts are important to understand the fluctuations in the global oil market.
WTI & Brent Price Change
The following chart shows how Brent oil price changed in the past.
API Crude Stock Change
The following chart shows the weekly-forecast by the API, American Petroleum Institute.
source:
tradingeconomics.com
Natural Gas Price
The oil price of liquified natural gas, LNG, is related to crude oil price. This is how it changes over time.
source:
tradingeconomics.com
EIA US Stocks of Crude Oil(weekly)
This is a factor that is overlooked at times, when it comes to forecast the oil price.It's a significant factor, identified by the EIA, when it comes to get a grip with the highly volatile market.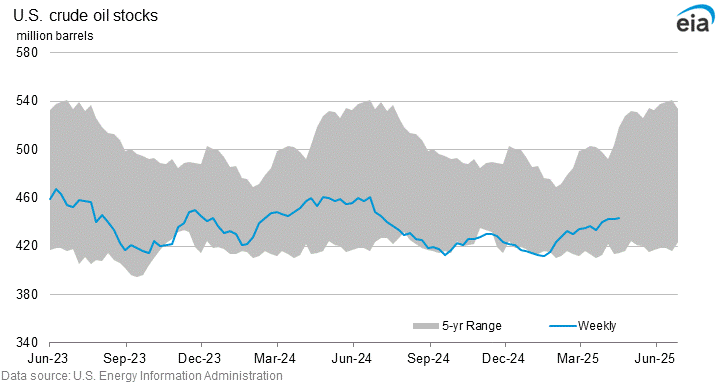 Ad:
---
---
Oil Rig Count - US
The following chart shows how the rig count changes in the recent past. The rig count clearly reflects the trend of the current output.
source:
tradingeconomics.com
Blog Flux Directory